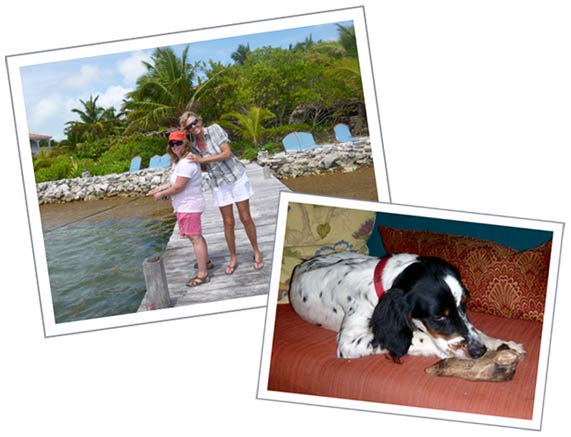 I grabbed my rods and walked through the gardens to the beach. I was really excited to practice casting with Kellee. What seemed like a "routine" appointment for me – refine Kellee's double haul ­- was not. We met for casting practice at 1:00 at the dock in front of my house. Kellee is fishing here in San Pedro, and then headed down the coast to Placencia to swim with the whale sharks who are mating this time of year. Anyway, I showed up early to practice my cast -­ something that I love to do, but truthfully I have not had my flyrod in my hand recently. Life changing events have been showing up on my front door the past couple of months. The kind that need attention. I have been here before; I recognize the big set of waves. And I do know that everything that goes into catching the next wave makes each choice exhilarating. It does require breathing deep into your soul. I'm truly excited about these life changing events, but my flyrods have stayed racked on the wall.
Standing on the dock, I peeled off a bunch of line from my favorite 7 weight rod. As the fishing boat next to me cleaned giant grouper and big snappers, I cast the line under the next dock, just as planned. Wow. "That was fun." Just like that, a simple act brought pure joy right to me. The spear fisherman spoke in Spanish and they were laughing about all the work it takes for me to catch a fish with the silly flyrod. I tried to explain in my remedial Spanish that the "casting" is muy divertido ­ or really fun. It's like being a cowboy I told them, You can throw your line and catch something. We were laughing ­- a bull or a fish?
Kellee showed up and had my full attention as she shared her bonefishing stories. We talked about how easy it is to cast when the fish aren't right there! I put the 7 wt. in her hand, and she showed me her strong cast. We changed a few things, and soon her cast looked fluid ­- she wasn't "gripped", as we say. We wrapped up our lesson and as I walked back to my house, I was smiling. Soul food.
Panga's favorite toy is a "river tooth" from the Hoh River -­ a very special steelhead river. She is six months old, so my little Setter loves gnawing on most objects that come her way. Shells are also right in there, but the river tooth rarely leaves her side. In his writing, David James Duncan describes rivers he has known and continues to explore. He shares life stories in his books that many of us have come to love. In his book, River Teeth, he eloquently describes a river tooth:
"There are, however, parts of every drowned tree that refuse to become part of this cycle. There is, in every log, a series of cross-­grained, pitch-hardened masses where long­-lost branches once joined the tree's trunk. 'Knots,' they're called, in a piece of lumber."  ­ –David James Duncan.
I watch as Panga's "river tooth" loses pieces. Her teeth marks have made a new shape in this very dense wood. Just as a sculptor shapes with his knife, she is creating a new piece. The really amazing thing is that she is a puppy -­ she loves chewing; she loves how that hard wood feels on her growing teeth. But she doesn't know she is changing the shape of her river tooth -­ she just loves it and that's that.
So as we look at Spring's renewal, there are some really fun things we can do for the pure joy of it. Our fly fishing offers this to us. I'm excited to share fun times in my new "panga" boat here in Belize. It's been a long time coming to this next adventure. And like my pup, Panga, I really didn't know what I was shaping as I created my own "river tooth."
And as we look forward to Summer ­we will find new river teeth. From the rivers we float, wade and explore, we will stumble upon a dense piece of wood, pick it up, and throw it in our pack. And just as this particular river tooth came from the Hoh, that little piece of "pitch-­hardened masses," will remind us of a very special place. It might stay the same, or it might change. But as we hold this dense wood, as we hold a flyrod ­- we do know there is something solid that represents our inner peace.