The 400 square miles of saltwater flats  that surround Ambergris Caye is home to bonefish, permit and tarpon. Arguably the best place to "GRAND SLAM" in the world. Our bonefish average 2 to 4 lbs, with fish up to 6 lbs. as a big fish for Belize. We may not have huge bonefish, but we have a lot of them! Very fun on a 6 wt if you are an experienced angler. 8 wts. are used most of the time for bonefish, snook and small barracuda. 9 and 10 wt outfits are used for permit and tarpon. Our permit average 5 – 25 lbs., and tarpon 20 – 80 lbs for resident tarpon all year. Mid May through mid-October: Hunting migratory tarpon you will want an 11 or 12 wt outfit. An average fish during migratory season is about 60 – 80 lbs.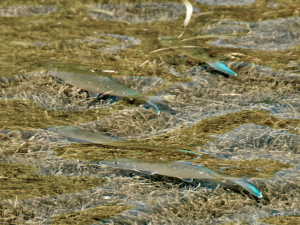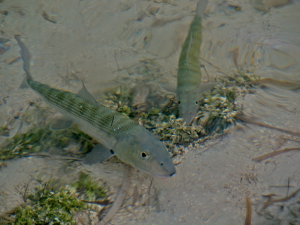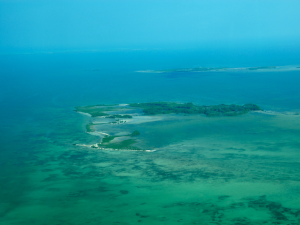 NO EXPERIENCE NECESSARY! OPEN TO ALL ANGERS, ALL ABILITIES. THAT'S WHAT WE ARE ABOUT…MAKING IT ACCESSIBLE TO YOU. SO GO AHEAD, CATCH YOUR FIRST BONEFISH, OR FIND THE THRILL OF YOUR REEL SINGING FROM A PERMIT PULLING ON YOUR LINE. YOUR SOUL WILL BE RENEWED!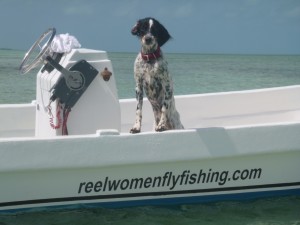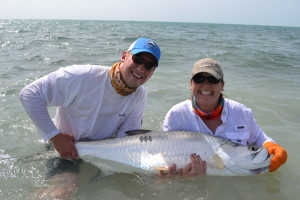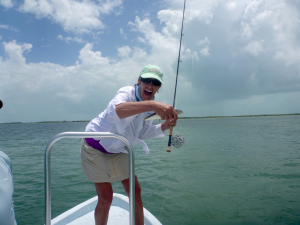 Show up for the fun! 
RATES AND INFORMATION
$475 US FULL DAY
GUIDE FEE INCLUDES:

GUIDED INSTRUCTION  AND FUEL WITH 23 FT. LAUNCHA EQUIPPED FOR FLY FISHERS. ONE OR TWO ANGLERS. 

LUNCH CATERED TO YOUR LIKES AND DIET.

USE OF ANY FLY FISHING EQUIPMENT NEEDED: RODS/REELS, FLIES. (PLEASE PROVIDE YOUR OWN FOOTWARE AND RAIN JACKET). 

NON ALCOHOLIC BEVERAGES. IT IS IMPORTANT TO DRINK A LOT OF WATER WHILE OUT FISHING. WOMEN – NO PROBLEM. WE WILL TAKE YOU TO A BEACH OR YOU CAN WEAR YOUR BATHING SUIT AND JUMP IN THE WATER! 

ALCOHOLIC BEVERAGES AND GRATUITES NOT INCLUDED.

YOUR GUIDE WILL PICK YOU UP AT YOUR DOCK. FOR ALL ANGLER'S STAYING NORTH OF 5 MILE, A $25 US CHARGE WILL BE ADDED FOR FUEL COSTS. 
LICENSES:
BELIZE WAS THE FIRST COUNTY TO MAKE BONEFISH, PERMIT AND TARPON CATCH AND RELEASE! ALL ANGLERS AGES 14 – 65 FISHING WITH GUIDES WILL NEED A LICENSE.
AVAILABILITY:
BELIZE IS POPULAR THESE DAYS! EASY ACCESS FROM THE US – ONLY 2 HOURS FROM HOUSTON, MIAMI OR ATLANTA – FLY FROM BELIZE CITY INTERNATIONAL TO SAN PEDRO, BELIZE. A 16 MIN FLIGHT ON TROPIC AIR. 
TO ENSURE A CHARTER/GUIDED TRIP IS AVAILABLE FOR YOUR EXPERIENCE, WE HIGHLY RECOMMEND YOU CONFIRM 90 DAYS IN ADVANCE. WE ACCEPT LAST MINUTE RESERVATIONS IF SPACE IS AVAILABLE. 
DEPOSIT AND CANCELLATION:
A 50% deposit is required to hold space for any trip or guide. No reservation will be held without deposit. Full pre-payment to Reel Women Fly Fishing Adventuress is due 90 days prior to trip. No cancellation/refund less than 45 days. In the event of a cancellation, every effort will be made to transfer to another angler or date.  All deposits are non-refundable but may be applied to another angler or date prior to 30 days before guided trip. 
WEATHER POLICY:
We wish everyday was a perfect day. However, if the day becomes too difficult to fish due to weather, every effort will be made to transfer guided trip to another day.