My time is spent between San Pedro, Belize and the rivers of Idaho and Montana, USA – living a life of fly fishing. Yes, I love catching fish. The thrill is like no other. But the story always has the character of the place. And "that place" always has something new to teach me.
— Lori-Ann
Bio

Lori-Ann landed her first steelhead on fly wading the Deschutes River in her late twenties. That lead her to move to Teton Valley and guide the Snake River between Wyoming and Idaho for twenty years. Throughout her guide career she always had a special love for casting. She has won several casting and fishing competitions and represents leadership with her casting approach to fishing. She attended the Orvis Guide Rendezvous with sixteen men in 1989. Orvis chairman, Leigh Perkins was her first client fishing Nelson's Spring Creeks. Right there in Livingston, Montana she knew her life as an RN was going to take a dramatic shift. And it did. Along with some fly fishing leaders like Nancy Zakon and Margot Page, Lori-Ann started the Orvis School for Women in 1992. It was there in Manchester, Vermont an entire room of twenty-seven women from all over the USA decided they wanted to go on fly fishing trips. It was a no brainer for Lori-Ann who is addicted to fun to launch Reel Women Fly Fishing Adventures in 1994. RWFFA continues today, twenty-five years later, as a source of inspiration to get women out on the water fly fishing and joining in with RWFFA trips and schools. Life long friendships have been made through RWFFA and they are pretty proud of that. To complete her guiding career of thirty years, Lori-Ann has spent the last ten years living for the most part in San Pedro, Belize. She established Reel Belize – a Belize Tour Operator for fly fishing in 2018. She has guided full time on the flats and now spends her time training Belizean Tour Guides to be the best out on the water for her company, Reel Belize. Between living in the tropics and then her beloved West in the summertime, life is pretty good for this veteran fly fishing guide. It's Lori-Ann's true belief that fly fishing pleasure brings to those who dare – those that want to keep seeing a rainbow trout break the rivers surface with an explosion to the fly on the Big Hole or feel the adrenaline rush from of a huge school of permit charging feathers and fur on the saltwater flats of Ambergris Caye – a life of passion and fun. 
High Points
2018. Reel Belize becomes an official Belize Tour Operator! Reel Belize guide team initiated. Look out for some amazing fly fishing guides to show you the flats of Ambergris Caye and it's treasures. 
2017. Trade license for Reel Belize – a Belizean company designed to train and provide fly fishing guides for a world class fly fishing experience from San Pedro, Belize.  
2015. "Breaking Barrier's Award." The Orvis Company awarded Lori-Ann and Reel Women with this prestigious award for service promoting women in fly fishing.
2015. Orvis Catalogue. Featured center page as a strong woman in fly fishing.
2015. Able Women Initiative. Lori-Ann worked with an inspirational team of women who serve to promote women in fly fishing. Abel Reels. Mayfly Productions.
2014. "Buccaneers and Bones." An Outdoor Life presentation affiliated with Bonefish Tarpon Trust. Lori-Ann filmed guiding.
2012. "Buccaneers and Bones." An Outdoor Life presentation affiliated with Bonefish Tarpon Trust. Lori-Ann filmed teaching, fishing, guiding and speaking.
2009 – 2015. Director of Fishing. El Pescador Lodge, Ambergris Caye, Belize. Brought the guide team from 5 full-time to 14 full-time guides. Orvis International Lodge of the Year, 2013.
2007. Fly Fishing Master's. Team "Underarmor" won $30,000. Lori-Ann was one of the four team members.
2003. "Best of the West" in the ISE Casting Competition.
Media credits include ESPN, CNN, The New York Times, Martha Stewart Living, and Outside Magazine and more. Lori-Ann was the fly fishing consultant for Meryl Streep and Kevin Bacon in the movie "The River Wild".
Lori-Ann is featured in a variety of books including Rising Fish and Pointing Dogs, A Memoir by her dear friend Leigh Perkins, former CEO of The Orvis Company.
In 2014 Marlo Thomas included a chapter on Lori-Ann in her book It Ain't Over. Stories from 60 women who prove it's never too late to live out a dream.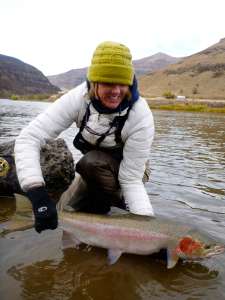 Species and Region of focus:
"From the Rivers to the Sea." Lori-Ann will share with you fly fishing adventures from her favorite rivers in Montana, Idaho and Wyoming. And the next cast will take you to her beloved saltwater flats of Belize. From the thrill of a perfect presentation to a wild trout to a long cast that reaches permit, these adventures teach us about ourselves in nature.
Lori-Ann is available for speaking presentations as well as casting demonstration and instruction.
Day Rate: $1000.00 per day and expenses.