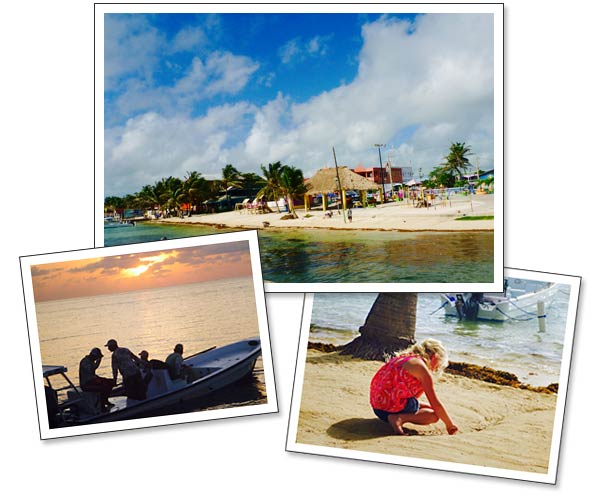 "What's it like to live here?" I answer this question daily. Because I work around a lot of people as a fishing director, I keep it short. "The people are genuinely nice and if you love nature – it's an endless discovery."
But what it is really like? Well, if you move here from another place and have light skin, you would most likely be in the "gringo" category. If you decide to move here and cut ties with where you came from, you would be defined as an "ex-pat." If you move here and work in the community, you will quickly be defined by your occupation. The bottom line is that we are what they call here, "a mix-up." We are a blend of people from all over, and peace prevails.
Tourism drives the San Pedro community. Located right on the Barrier Reef, the fishing and diving are world class. A lot is going on in this little town that is looking at a growing population of people annually.
Cultural heritage is very important to native Belizeans. Stories are told in Spanish, Creole and English. It's impossible to learn Spanish here because they mix up a sentence with a variety of words that only have meaning here in Belize. "Lamp-up," means you're late or dragging your feet.
So how are you to know? You keep listening to the reference because it repeats itself. Almost everyone has several nick names. "Six-high," was something I heard walking down the street one day. I turned around and the guys said, "yeah mon, you be six high!" And I am.
"Gringa de pescadora" is another one. In Jackson Hole it is not unusual to find female fly fishing guides, but here it sparks interest. Ambergris Caye has world class fly fishing for bonefish, permit and tarpon. And yes, the women are showing up with their fly rods and the guides are loving it.
I work with three generations of fishing guides. The first generation started out exploring with curious and most often, leaders in fly fishing. These were tough guys who showed up to figure out how to land these fish with flies. And then came the next generation who saw the "party" guys. Groups of men would take over the lodge and readily consume cases of Beliken beer and pitchers of rum punch. Fish were caught, but this generation of guides learned to party with the best of them. I still hear the stories… And now, the third generation is sharing their home water with multiple generations of families traveling together. Special vacations are now spent fly fishing the flats of Belize. Newlyweds, father and sons, father and daughters, women's groups, and a new breed of serious saltwater anglers – all excited to cast their fly to a fish that will forever stay with you.
When I first showed up five years ago, I would have to call a taxi to make sure the guide knew he had to work the next day. Now I text them. And let's just say their wardrobe has been influenced as well. With enthusiastic anglers comes the latest and greatest in fly fishing gear. I now look with envy at tackle bags the captains are carrying in their boats. While we are still predominately a panga boat community – our boats are getting more bling bling all the time. Trim tabs, graphite push poles, new hulls built, hatches built, lean bars, rod racks – all new additions in the last five years.
We are learning together how to keep a sense of "home" with a population of people who come here to make dreams happen. The simple pleasures are not overlooked. A small gathering for some fresh ceviche. Or a run out in boats or kayaks to fish and explore during down time. San Pedranos love to party. Any excuse for a parade or a barbecue is welcomed. Lately I have been going to Legend's for their jam session on Tuesday nights. The music takes over and soon we are all dancing to the best of the 70's or rage-tone. It's a cast of characters for sure.
Holidays can be weird. This was my fifth Thanksgiving here in Belize. As I looked around the tables, I smiled to those that I have shared so much with over these years. It's never the "same" as traditional time spent with people you have enjoyed sharing the holiday time. However, it has become a time I enjoy as it is.
At the end of the day, we can plug in and watch the news from any channel. I can Face Time my family and friends or Instagram the latest creature or event. And for this, I'm thankful. I could no way have accepted some of the challenges in moving to Belize without my network. So, at this time when we spend a little more time being thankful, I pause. I breathe in my salty air and say thank you to all that have made me feel at home in Belize.